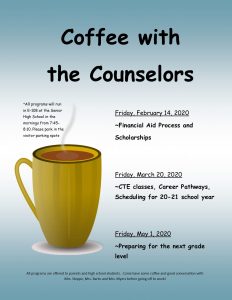 All programs are offered to parents and high school students. Come have some coffee and good conversation with Mrs. Steppe, Mrs. Barto and Mrs. Myers before going off to work!
Friday, February 14, 2020 ~ Financial Aid Process and Scholarships
Friday, March 20, 2020 ~ CTE classes, Career Pathways, Scheduling for 20-21 school year
Friday, May 1, 2020 ~Preparing for the next grade level
*8th grade parents are encouraged to attend*
*All programs will run in E-108 at the Senior High School in the mornings from 7:45-8:10.