The Jersey Shore Area School District sits at the gateway to the Pennsylvania Wilds in North Central Pennsylvania. Our 385 square miles district is on the Susquehanna River and the beautiful Pine Creek Valley with its 60-mile rail trail that runs through it. The Jersey Shore Area School District is the 2nd largest school district in Lycoming County, which happens to also be the 9th largest geographical district in Pennsylvania. We are a progressive school district with a forward looking vision. Visitors have described us as a surprising gem. We have a motivated administration, devoted teachers, and amazing students.
The Jersey Shore Area School District is located in Clinton and Lycoming Counties in North Central Pennsylvania, midway between Williamsport and Lock Haven. The school district is comprised of the Boroughs of Jersey Shore and Salladasburg and the Townships of Anthony, Bastress, Brown, Cummings, Limestone, McHenry, Mifflin, Nippenose, Piatt, Porter, and Watson–all in Lycoming County; and the Borough of Avis, the Township of Crawford, and part of the Township of Pine Creek–all in Clinton County. Jersey Shore Borough is the largest municipality in the district with a population of more than 4,000 individuals. The 2010 population served by the school district was approximately 17,850.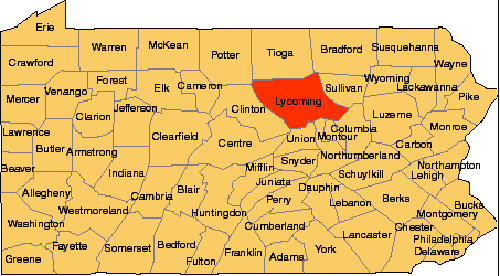 The present school district was organized in 1966 by a consolidation of eleven smaller school districts. It is governed by a nine-member Board of School Directors elected to four-year terms. The superintendent is the chief administrative officer of the school district with overall responsibility for all aspects of operations, including education and finance. The business manager is responsible for budget and financial operations, food service, maintenance and operation of plant, transportation, and purchasing. These officials are appointed by the Board of School Directors.
The district's educational facilities are organized into three elementary centers (K-5), one middle school (6-8), and one high school (9-12) serving approximately 2500 students. The Jersey Shore Area High School and Jersey Shore Area Middle School, along with the district's largest elementary school, Jersey Shore Area Elementary School, are in located in Jersey Shore Borough, the district's largest municipality.The district's buildings are in excellent condition and well maintained. Jersey Shore Area Elementary School underwent a complete renovation that finished in summer 2014; the high school, middle school, and Salladasburg Elementary schools were renovated during the last 8-10 years. The district administration center is the education, business, and technological hub of the school district.
Located not far from I-80 in western Lycoming County, the JSASD is located approximately 15 minutes west of Williamsport; 15 minutes east of Lock Haven; 50 minutes east of State College; 2 hours north of Harrisburg; and 3-3 ½ hours' drive time from the following major metropolitan areas: New York, Baltimore, Washington, Philadelphia, Pittsburgh, Buffalo, Rochester, and more.
The Jersey Shore Borough is located at the southern terminus of the Pine Creek Rails to Trails recreational area. The Rails to Trails and the 146,000 acre Tiadaghton State Forest provides plentiful running, hiking, biking, kayaking, fishing, and hunting opportunities for the outdoors enthusiast.
Our Mission and Our Vision

Fast Facts About JSASD
Approximately $41 million 2018-19 budget.
20 administrators, 166 faculty members, and 126 support staff members collaborating to provide a safe, positive, and welcoming school atmosphere for all students.
Audits that have praised the district for its sound fiscal management and business procedures and identified the district as a "low risk" auditee; outstanding PIMS management; commitment to web based resources supporting business office functions and easy access for parents.
One of the few comprehensive high schools offering onsite CTE programs in automotive technology, building maintenance, business/computer technologies, child care services, communications technology, CADD, construction technology, culinary arts, information technology, and manufacturing technology.
State and national award-winning students and student organizations such as FBLA and TSA; outstanding art and music programs; annual dramatic and musical performances.
Outstanding athletic teams which have won numerous district titles in the past 5 years. A rejuvenated football team that has had a perfect regular season and set an all-time team record for wins in a season; a boys baseball team that has won 5 straight district titles; a girls softball team that has won district titles and is a perennial contender and state playoff participant; a wrestling team that has won 5 consecutive district titles; state award winners in cross country, swimming, and more.
Partnership with the Penn College Now program (PA College of Technology) in which students can earn up to 21 transcripted college credits at minimal cost before graduation; dual enrollment agreements with Bloomsburg University, Clarion University, and Indiana University of Pennsylvania.
State-of-the-art network, network infrastructure, and highly responsive tech staff providing support to nearly 2900 district users; all buildings connected by more than 20 miles of district owned fiber.
A commitment to instructional technology integration with the implementation of a K-6 iPad 1:1 program with additional expansion planned for 2016-17 and beyond; commitment to web based learning resources that extend learning to the home and provide parents access to student grades and attendance through web portals.
Recognition of JSASD schools as models for School-wide Positive Behavior Support programs.
An in-house Jersey Shore Online Learning program for students wishing to learn in an online environment.
Where the Jersey Shore Area School District is Located in Pennsylvania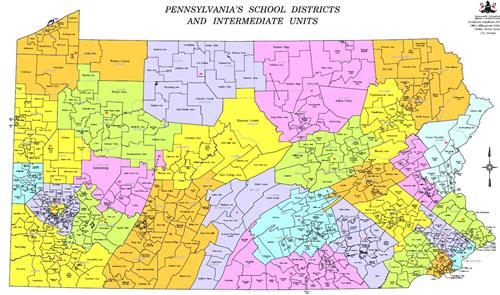 Where the Jersey Shore Area School District is Located in Blast Intermediate Unit #17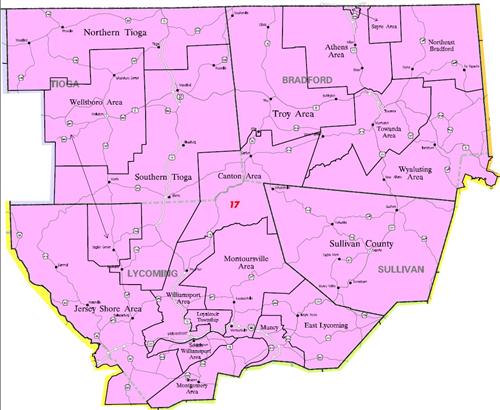 The Townships and Boroughs That Are Part of the Jersey Shore Area School District
How did Jersey Shore get its name?
Jersey Shore got its start just before the American Revolution. In 1772, as the early white settlers were increasingly clashing with the native Indians and their British allies, a Colonial officer Col. John Henry Antes built the first house along the Susquehanna — on the eastern bank of the river, across from where the town is now. The Antes house was fortified so it could be used for protection of settlers.
From Philadelphia, descendants of state founder William Penn issued an order forbidding white settlers from moving west of what now is Pine Creek, which empties into the Susquehanna three miles west of what now is Jersey Shore. Then on July 4, 1776 — the same day that the more famous American Colonial leaders in Philadelphia were signing their Declaration of Independence from Great Britain — a group of Jersey Shore leaders called the Fair Play Men met under a big elm tree and also declared their independence.
Perhaps because of New Jersey's growing population, many of the incoming families decided to move from that state, including brothers Reuben and Jeremiah Manning. They arrived in 1785 and laid out a few streets in what is now downtown. Waynesburg was the early name for the settlement on the western shore of the Susquehanna, which flows north in this area. But another group of newcomers, mostly Scotch-Irish, were settling on the eastern bank of the river.
Over the next 30 years or so, the names Waynesburg and Jersey Shore competed for acceptance. But as the influx from New Jersey continued to grow on the western bank of the river, the name Jersey Shore finally won out. Surveyors made a complete map of town streets in 1812, and Jersey Shore was formally incorporated as a town in 1826.