Making News
Go to our District Facebook site to watch live streams of board meetings, graduations and other special occasions!
Click here to check the meeting schedule.
Other events throughout the district may be broadcast on this channel.
---
NOTICE OF SPECIAL MEETING
The Jersey Shore Area School District Board of School Directors will hold a Special Meeting on Wednesday, July 10, 2019 at 7:00 p.m and ending at 9:00 p.m for the purpose of discussing and reviewing information, including comments from the public, on optional plans that do not include closing Avis Elementary School and/or Salladasburg Elementary School. No action is expected to be taken. The Special Meeting will be held at the Jersey Shore Area Middle School at 601 Thompson Street, Jersey Shore, Pennsylvania. The public is invited to attend and participate.
Optional Plan Presentation – PDF file
---
JSASD Comprehensive Plan Board Presentation and Jersey-Shore-Area-SD_Comprehensive-Plan_6-3-2019
---
View the Salladasburg Public Hearing on Possible School Closing from February 27, 2019 HERE

---
View the Avis Public Hearing on Possible School Closing from March 28, 2019 HERE
---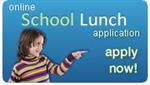 Click on the picture to apply now for 2018-2019 Free or Reduced Meals at our new SchoolCafe.com website. You can apply quickly and easily from your computer, phone, or tablet.
Or if you prefer, paper applications are available in every building's main office and may also be printed out here.
---
---
The technology department is in the process of collecting iPads from the High School and Middle School students for the summer. Middle School students (Grades 7 & 8): You will need to turn in your ipads, cases and charger block Read More …