---
Making News
Board Meeting
The December 7, 2020 Board meeting will be held virtually and live-streamed for the public. This will be a reorganization meeting. To watch the meeting online, go to the district website at www.jsasd.org and scroll down to the live stream link that is posted.
The board will continue a public "Courtesy of the Floor" via phone. If you would like to participate in "Courtesy of the Floor" via phone, please call the district office at (570) 398-1561 prior to 3pm on Monday (12/7/20) and give your name and number to be reached during the meeting. During the meeting, the Courtesy of the Floor number is (570) 398-5576.
Jersey Shore Board Meeting Live Stream
---
The Monday, September 25, 2023 Board meeting will be held in person, open to the public and live-streamed. The meeting will be held in the Board Room of the District Administration Office at 7:00 pm. To watch the meeting online, Read More …
---
MEAL ORDER FORM
Children that are virtual, hybrid or younger than school age are now able to order a meal on instructional days when they are not physically in the buildings, below are links for designated pick up locations. Meals can be ordered from any building regardless of age. You do not need to pick up meals at your student's specific building. For example, if you have a Middle School student and a JSE student you may select one location to pick up both meals. Please select your desired pick up level below.
By submitting an order, you will be certifying that this order/food will be provided to a child between 0-18 who resides in the Jersey Shore Area School District. Additionally, your child will no longer have to be present at time of meal pick up.
---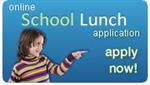 Click on the picture to apply now for 2020-2021 Free or Reduced Meals at our new SchoolCafe.com website. You can apply quickly and easily from your computer, phone, or tablet.
You can download the application here or contact your school office for a printed copy
---