Building Opens: 7:30 AM
Academic Start Time – 8:00 AM
Dismissal – 3:15 PM
701 Cemetery Street, Jersey Shore, PA 17740
Phone: 570.398.7170
Fax: 570.398.5612
Welcome to the Jersey Shore Senior High School website.
We thank you for taking time to learn more about what our high school and district have to offer students. The faculty and staff at Jersey Shore High School are committed to helping all students succeed. We aspire to create a positive learning environment that helps our learners grow in a way that will positively impact our society. At the high school, our main objective is to provide students with a structured path to graduation that prepares all students to enter the workforce, attend college, or join the military. Regardless of the path chosen by the student, we want all students to be prepared so that they have a choice. We encourage our students to set high expectations for their performance and be self-disciplined in conduct, attendance, and attitude. 
Mission Statement
WE BELIEVE that healthy student/teacher relationships arise from learning environments with VARIED INSTRUCTION, CLEAR EXPECTATIONS, CONSISTENT DISCIPLINE, and POSITIVE REINFORCEMENT.  These practices FOSTER intrinsic MOTIVATION, increased FOCUS, and life-longer LEARNERS.  We further believe that meaningful RELATIONSHIPS between staff, parents (family), and students are best accomplished by establishing a culture of mutual RESPECT, RESPONSIBILITY, ACCOUNTABILITY, and RESOURCEFULNESS as modeled by the school board, administration, teachers and support staff.
2022-2023 High School Student Handbook
Cell Phone Policy Revision Announcement
Student Handbook Parent Agreement Link
2022-2023 Welcome Letter to Students
2022-2023 School Picture Information
2022-2023 Directory Information Consent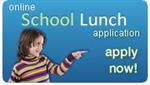 Click on the picture to apply now for 2022-2023 Free or Reduced Meals at our new SchoolCafe.com website. You can apply quickly and easily from your computer, phone, or tablet.
You can download the application here or contact 2022-2023 Welcome Letter to Studentsyour school office for a printed copy.
---
Congratulations! Finally your time to shine! Together as one, the CLASS OF 2023. PLEASE see the video link at the bottom and CLICK to view. After viewing, click your school order tab below the video to order! FOR BEST PRICING please order ONLINE Read More …